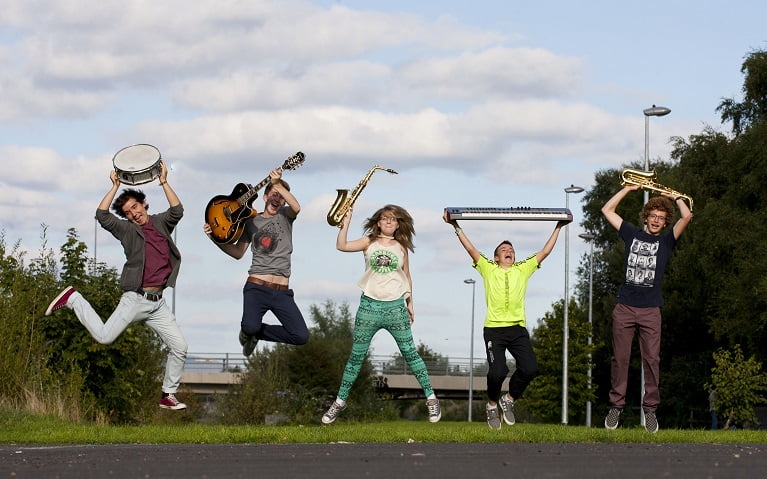 Limerick Jazz Workshop meets on Tuesday evenings at Learning Hub Limerick in Kileely and students are organised in ensembles under the guidance of expert teachers. Each session involves the students developing their skills by learning and performing some of the great standards in the jazz repertoire. There are also three specialist classes for singers, beginners and a little big band with more emphasis on reading than improvising (but always swinging!).
Our main ensemble classes run from 7.45pm to 9.45pm. Our specialist classes run from 6.45pm to 7.45pm. We have two semesters a year from January to April and September to December. We have a junior workshop for under 18s at 11.30am on Saturdays at the Peter Dee Academy of Music, O'Connell Avenue, Limerick.
We regularly perform in public as part of the course in Dolans and other city venues. Our ensembles have supported performers such as Des Bishop and the Soweto Gospel Choir at the University Concert Hall, Limerick. We have also appeared on the main stage at Africa Day in City Hall.
In the third week of July we host the International Vibes Workshop taught by Tony Miceli. Tony is a great Philadelphia-based musician and educator who has been teaching students from all over the world using the internet for many years, alongside his work at the University of the Arts and the Curtis Institute. His trips to Limerick allow annual face to face classes with his European students and he also teaches an evening ensemble class for all comers.
LJW can be contacted at limerickimprov@gmail.com or 086 602 5661. For more information, check out some of the other pages in this area of the website. You can see video of recent performances on our YouTube channel. We are supported by the Learning Hub Limerick and the Peter Dee Academy of Music.