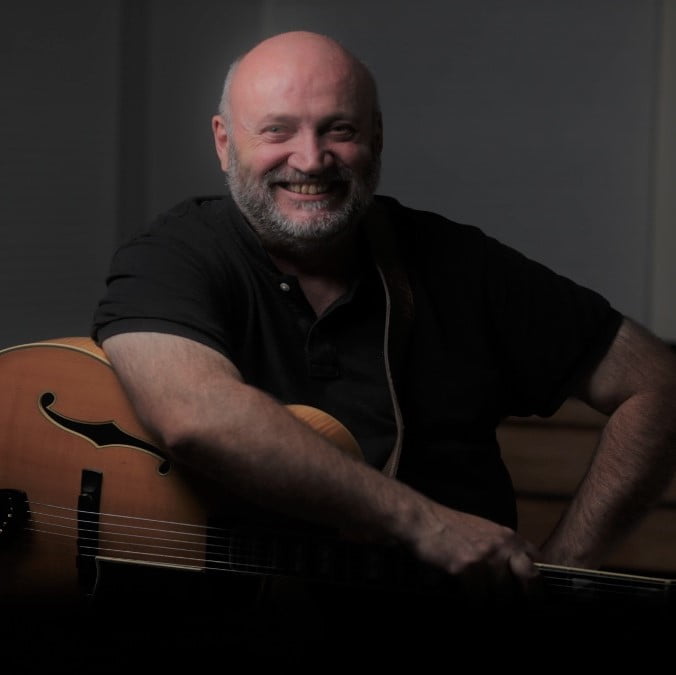 THUR 24 SEP – 21:15
David O'Rourke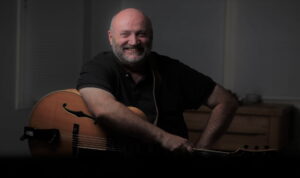 Irish-born
DAVID O'ROURKE
was initially influenced by guitarist Louis Stewart and developed his playing on the Dublin scene. He was introduced to the US jazz scene in 1982 via Bucky Pizzarelli and Les Paul. Inspired by his boyhood hero Pat Martino (with whom he has studied and now collaborates), David has performed with jazz legends Tommy Flanagan, Cedar Walton, Jackie McLean, Billy Higgins, Curtis Fuller, Kenny Davern, Jack McDuff and many more. His arrangements have been recorded and performed by many jazz legends, as well as the RTE Concert Orchestra (Ireland) which he guest conducts and the Czech Philharmonic. David leads his own 20 piece Big Band (The O'Rourkestra), co-founded and directs NYC's Jazz Standard Youth Orchestra and the Jazz Standard Discovery Program. In 2013 he toured Ireland with the Dublin City Jazz Orchestra performing a program that was comprising of his original compositions and arrangements spanning 30 years. David has recordings under his own name along with his collaborations as a sideman and an arranger/orchestrator. Recent festival appearances have included the Detroit Jazz Festival, Cork Jazz Festival (Ireland), Kings Place festival with the Global Music Foundation (London). For several years he held a 6 night a week guitar gig at The Jazz Standard in NYC, where he continues to perform with the likes of Steve Wilson, Jeremy Pelt and Lewis Nash. Recent projects saw David arranging al album of Tadd Dameron's music for a jazz and string ensemble, tour of USA and Ireland with Cassandra Wilson, string arrangements for a recording produced by fellow guitarist Russell Malone for a Japanese label.
Last fall David returned to the Cork Jazz Festival for a duo concert with trombonist Paul Dunlea. Presently he continues to perform as both a guest and a leader in clubs like Mezzrow and Jazz Standard.
http://www.davidorourke.com/
---
Seth Abramson
Grammy Award winning producer, guitarist and composer, Seth Abramson, was born
with a passion for music. His gift was first realized on the piano, but then it took flight when he picked up the guitar at age nine. Over the years, he's performed hundreds of engagements with his own ensembles as well as a sideman in bands both large and small. Over his career Seth has had the pleasure and honor of performing with artists such as Terence Blanchard, Azar Lawrence, Dave Liebman, Joe Lovano Clark Terry, Tim Ries, Matt Wilson and many more. He was featured as the guitarist on Terence Blanchard's Emmy−Nominated score for the documentary film entitled, The Promised Land.
In February 2012, Seth received his first Grammy−Award for producing The Mingus Big Band Live at Jazz Standard album, which received the award for the Best Large Jazz Ensemble Recording. He also produced the great Spanish pianist, Chano Dominguez's recording, Flamenco Sketches, for Blue Note Records, which was nominated for a Best Latin Jazz Album Grammy-Award in 2014.
Seth Abramson's original compositions have been heard in both Film and TV over the years. The legendary saxophonist, Houston Person, commissioned Seth to write a composition that became the title track of Houston's 2015 release entitled, Something Personal.
Seth graduated cum laude with a degree in music from New York University. He has served as an expert panelist at numerous music conferences, including the Association of Performing Arts Presenters (APAP), and has been a guest lecturer at The New School, Manhattan School of Music, New York University, Julliard Music School and many others.