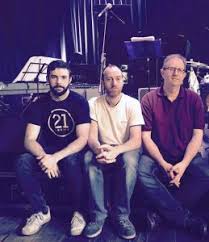 Saturday, September 23rd, 2017.
Time: 21:30

Location: Dolan's Warehouse

Tickets:

€20 
Opening for The James Taylor Quartet on Saturday night, September 23rd, at 9.30 p.m, Limerick Jazz Festival 2017 is delighted to present legendary Irish Jazz guitarist Joe O'Callaghan's Electric Freeplay.
Electric Freeplay is a band formed by guitarist Joe O` Callaghan and includes Derek Whyte on bass and Ben Wanders on drums. The programme of music for this performance is written by Joe and contains heavily improvised electric music with large elements of Jazz; Jazz Rock; Free Jazz and Funk.

All three band members have many years experience playing in all kinds of musical environments.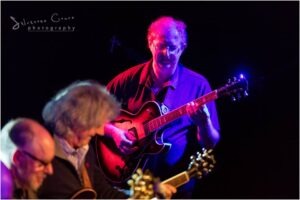 Legendary Irish Jazz guitarist and Irish Times anointed Demigod, Joe O'Callaghan.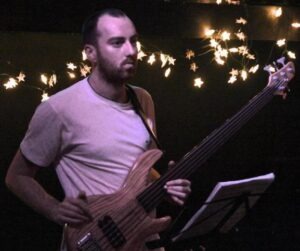 Newpark Music Centre staff member and bassist, Derek Whyte.
Sound designer, producer and session drummer, Ben Wanders.
Electric Freeplay features 3 of Ireland's top Jazz musicians, so expect the perfect opening accompaniment to The James Taylor Quartet and a night of high energy, multi-textured Jazz music.
Tipperary guitar demigod Joe O'Callaghan doesn't make it to Dublin all that often, so opportunities to catch him in the capital should not be missed. A mercurial, self-taught six-stringer with Alan Holdsworth and John McLaughlin on his mind, O'Callaghan has been a member of several groups led by Ronan Guilfoyle, including the entirely excellent (and entirely loud) Microclimate. His Electric Freeplay features Japanese-born Dublin-resident pianist Izumi Kimura, unusually playing electric keyboards, with frequent O'Callaghan collaborator Derek Whyte on bass and experienced prog-rocker Ben Wanders on drums – Cormac Larkin, The Irish Times.