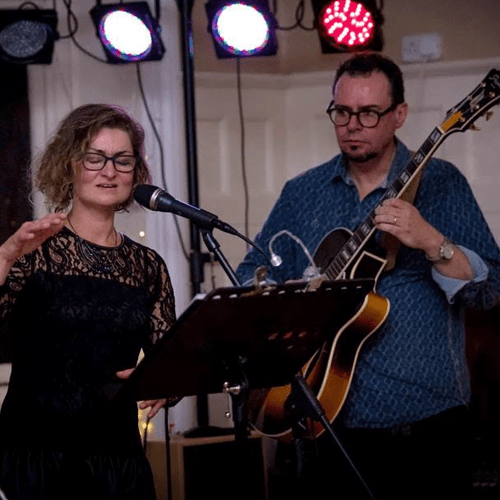 Friday, Sept 22nd, 2017.
Time: 18.30
On Friday evening, as part of Limerick's 2017 Culture Night, Limerick Jazz Festival and the Limerick Arts Office are delighted to present the wonderfully talented Jazz duo The Mysterious Mr. Valentine.
Featuring an energetic pool of creative music and a huge willingness to improvise freely and move between Jazz and other musical forms, The Mysterious Mr. Valentine's performances lead their audiences into new and original fields of sound and musical styles. Whether moving within traditional Jazz standards, contemporary pieces, original compositions or between Swing, Bossa & Tango, Funk, Manouche, Blues and Roots Reggae, all of these musical genres have found a home within the duo's unique performative style, which operates under the mantra of "letting things unfold as they come".
For this event, The Mysterious Mr. Valentine will be performing under the spell of the programme of music entitled: The Sorrows of my Heart, a collection of highly poeticized songs and compositions about love, loss and redemption which, having been performed in one form or another by artists such as David Bowie; Tom Waits; Leonard Cohen; and the Red Hot Chili Peppers, have permeated the Great American Song Book. This programme of music is truly emollient for the heart and for the soul!
The Mysterious Mr. Valentine will be playing the Limerick Jazz Festival as part of Culture Night Limerick 2017 on the 22nd of September from 6.30 to 7.30 p.m @ the Limerick City Gallery of Art. Tickets: Free Event!
"We love the beauty of the old Jazz standards as much as the more contemporary pieces – songs that we all know somehow and lyrics that we all relate to, in one way or another" – The Mysterious Mr. Valentine.
Jazz Duo
Rory Keane – Guitar.
Birgit Burhenne – Vocals; Kazoo; and the Field Telephone.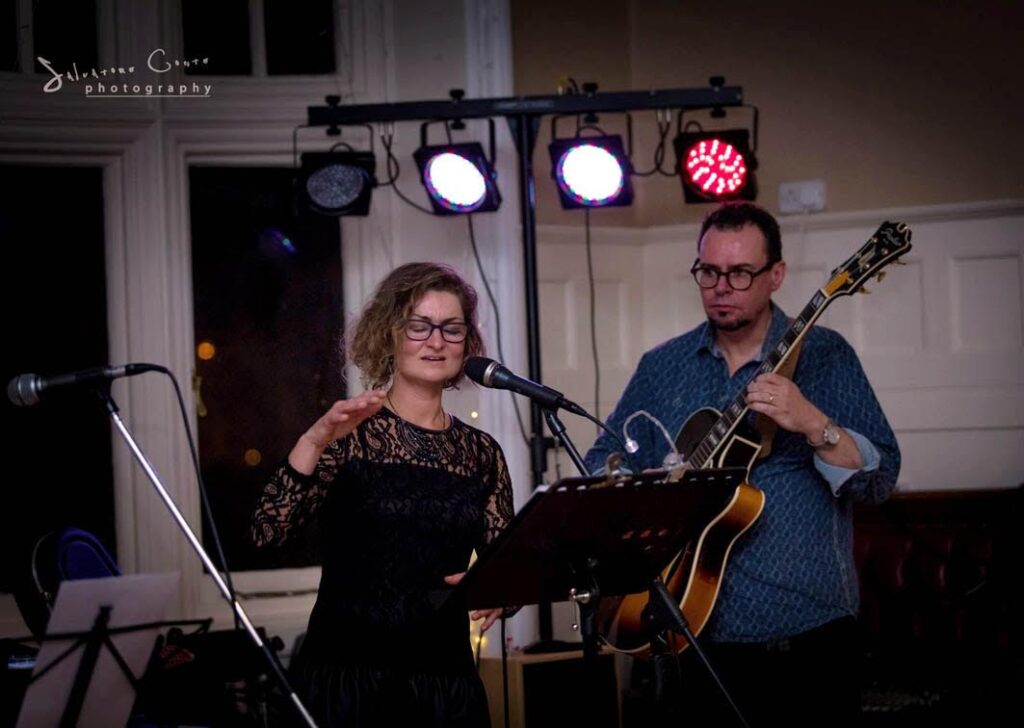 Rory Keane:
Rory Keane's accomplished and personal musical fingerprint provides pure musical pleasure to the ears. Rory has being playing the guitar since his late teens, concentrating exclusively on Jazz and some related genres for the last ten years. Since moving to the Mid-West of Ireland Rory has played regularly with Limerick Jazz's Workshop ensembles drawing inspiration and musical knowledge from the workshop tutors and all the local and international musicians he has had an opportunity to play with.
Outside of the Limerick Jazz Workshop gigs, Rory has played regularly with vocalists in a range of stylistic formats and in doing so he has developed his skills as an accompanist and a solo player who is open to both traditional values and the righteousness of a good song, regardless of where the music originates from.
Birgit Burhenne:
For over 20 years Birgit Burhenne has performed with many different ensembles and choirs, ranging from Gospel, Folk, Soul, Jazz and Blues. Her comprehensive range, colourful tone and broad musical interests give her the space to creatively manoeuvre within her own unique sound and mode of expression.
Birgit was an integral part of the Limerick Jazz Workshop for many years and has also attended the renowned Jazz Summer School in France where she was inspired and instructed by the fabulous and critically acclaimed Jazz vocalist and tutor Liane Carroll. Birgit attended London based vocalist and composer Lauren Kinsella's master class in Limerick and is also a member of a new acoustic trio that involves guitar, piano and three vocalists working on original material which was composed over the past 20 years. Away from music, Birgit also runs her own graphic design company Nestbox Illustration & Design: http://www.nestbox-illustration-design.com.
Culture Night 
Culture Night is an annual all-island public event that celebrates culture, creativity and the arts. This year, it will take place on Friday the 22nd of September. On Culture Night, arts and cultural organizations and venues of all shapes and sizes, including the National Cultural Institutions, extend their opening hours to allow for increased access for the public. Special and unique events and workshops are specifically programmed at participating locations and everything is available free of charge.
Culture Night has grown from a relatively small scale cultural event staged only in Dublin in 2006 to the significant national cultural event it now is, with some 350,000 people visiting museums, galleries, historic houses, artists' studios and cultural centers across the country. The initiative has captured both the public imagination and the enthusiasm of artists and cultural organizations nationwide.
Culture night encourages more people to visit cultural venues and experience culture and the arts in their locality.
Reminds everyone about the fantastic cultural facilities and resources that we have locally and nationally.
Raises the profile of cultural organizations, activities and facilities.
Encourages people to try new things and to get into the habit of going more often to cultural venues and activities in their locality.
Makes it easier for people to play a role in their local cultural scene.
Helps create a sense of community and belonging.
Who makes Culture Night happen?
Culture Night happens because many people share a vision and enthusiasm for enjoying, celebrating and promoting creativity and culture. The following list gives a taste of the wide range of people and institutions that make it happen across Ireland: the public; artists; performing groups; galleries; museums; sports clubs; libraries; arts centers; craft workers; studios and workshops; theaters; public spaces; broadcasters; schools; community groups; local authorities; Government Departments; state agencies and public bodies; transport companies; universities; shops; and many more.
For one night only the island of Ireland and select international locations become your free cultural playground, explore your surroundings and make sure this Culture Night revolves around you.
Culture Night website: https://www.culturenight.ie
Limerick Arts Office web-page: https://www.limerick.ie/limerick-city-council-arts-office
Culture Night is brought to you by the Department of Arts, Heritage, Regional, Rural and Gaeltacht Affairs in partnership with the regional arts offices, local authorities and cultural organizations throughout the island of Ireland.