Saturday 23rd September
Belltable 8pm
Tickets: €27
live in the Belltable Friday 23rd September 8pm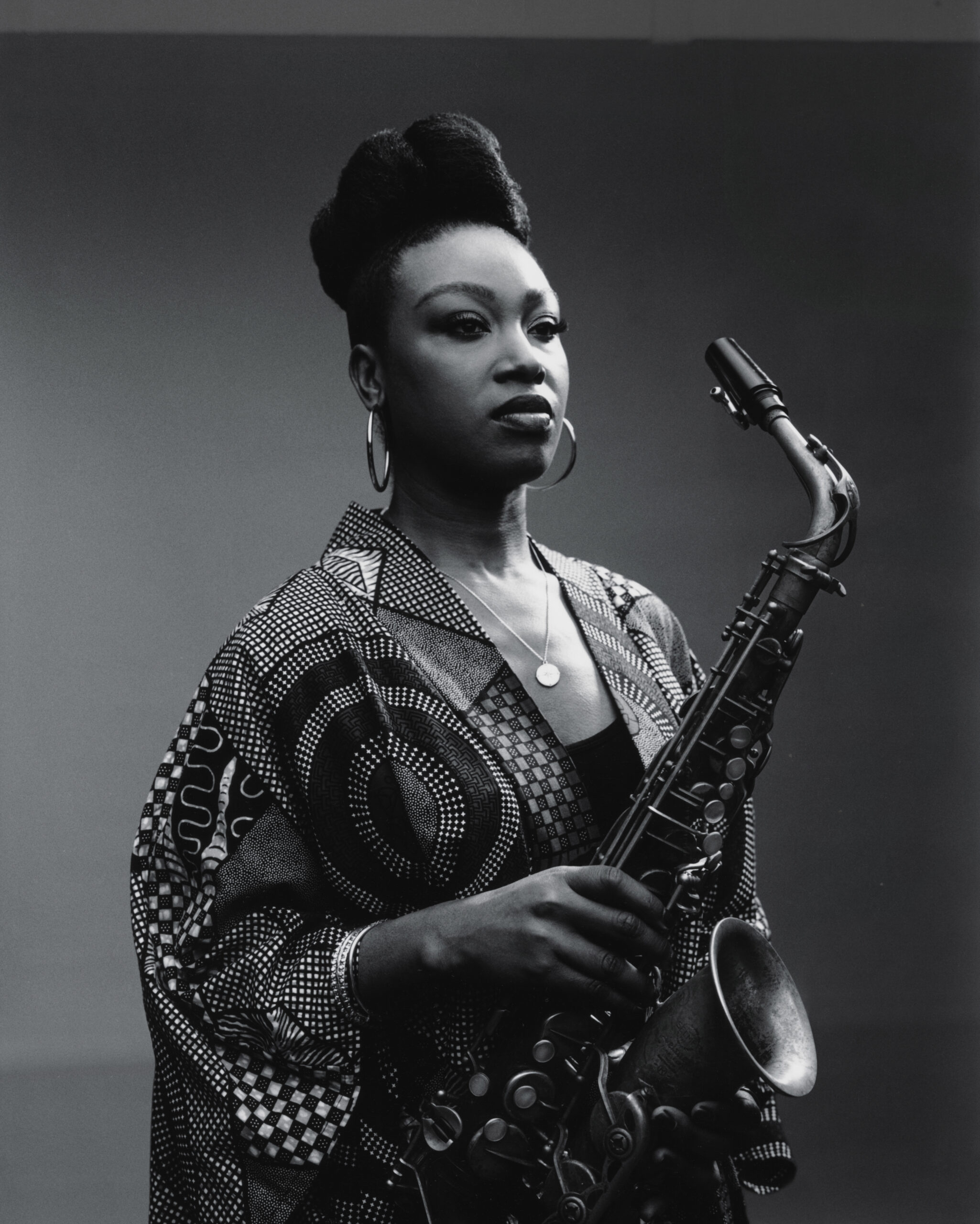 The world is safe because we have Camilla!
- Dee Dee Bridgewater, London Jazz Festival, 2017
A truly memorable concert... Jazz superstars in the making.
- Jazz Journal
Born in Eket, Nigeria, Camilla has been interested in music from an early age and particularly in the fusion of African and Western music. She grew up listening to Fela Kuti, as well as Jackie McLean and Charlie Parker. She began playing the saxophone aged 11 years old, when she won a music contest where the prize awarded her saxophone lessons.
Camilla went on to study with many jazz greats such as saxophone giant, Jean Toussaint (of Art Blakey fame), Julian Siegal and Martin Speake at Trinity College of Music where she gained a Masters in Jazz Performance, as well as being awarded The Archer Scholarship for Outstanding Performance in 2011.
In 2009, she joined award-winning band Jazz Jamaica and performed with special guest, Ernest Ranglin at Ronnie Scott's jazz club. In 2013 Jazz Jamaica was nominated for a MOBO award for Jazz Performance. They continue to perform extensively all over the world.
In 2014, Camilla formed her own critically acclaimed project showcasing the stars of the new UK Jazz Scene. Dubbed "The Golden Girl of Jazz" by The Evening Standard, Camilla's debut album, 'Isang' (pronounced E-SANG which means 'journey' in Ibibio her native language) received huge critical acclaim.
Her follow up album, 'The People Could Fly' which was released in September 2018, featuring special guest Omar, as well as in hugely respected guitarist Shirley Tetteh, gained substantial critical acclaim with 4 star reviews from the Financial Times and Jazzwise to name a few. The album and Camilla was featured on several key playlists such as State of Jazz, and Camilla was the poster girl for Tidal's British Jazz playlist. The album looked at tales that slaves passed onto their children through generations and, whilst full of sorrow, was essentially a story of hope for black people and mankind that we can one day live together in harmony.
Camilla's band has gigged solidly, being fortunate to support Courtney Pine's album launch featuring Omar at The Barbican, as well as performing at Love Supreme (where Camilla took part in a panel discussion with Kamasi Washington) and the Cheltenham Jazz Festival. Camilla's band also supported Dee Dee Bridgewater at The Cadogan Hall for the 2017 London Jazz festival. Dee Dee was so impressed she remarked, "The world is safe because we have Camilla!"
As part of the EFG London Jazz festival Camilla performed at the Purcell room, which was described by Jazz Journal as "A truly memorable concert…Jazz superstars in the making" with the London Jazz Review speaking of "the mature and imaginative compositions combined with some sublime saxophone solos".
Also as part of the EFG London Jazz festival, Camilla performed at King's Place to a very appreciative audience, a show that was broadcast live on BBC Radio 3.
Camilla has been nominated for an Urban Music Award for Best Jazz artist in 2017 and 2018 and nominated for a Jazz FM award for Best Instrumentalist 2019. She has performed in the Jazz Re:freshed showcase for SXSW, which was filmed at Abbey Road studios in 2021, as well as the Jazzahead showcase in 2021 and reached the final in the DC Jazz Prix in 2021.
Most recently, she was awarded the PRS Foundation Momentum Award which funded the completion of her third studio album, 'Ibio Ibio', released in September 2022 on Ever Records/!K7 Music.